The story of Chuck Simons and his journey to creating the University of Pet Education, Technology and Sciences (UPETS) started many years ago. Chuck has been selling his wildly popular pet grooming product, the Groomers Helper, for the past ten years. Groomers Helper is a simple device that positions a pet on the grooming table, protecting both the pet and the groomer during styling sessions. Simons has sold thousands of them around the globe and has used that success to become a leader in the field of pet care and safety.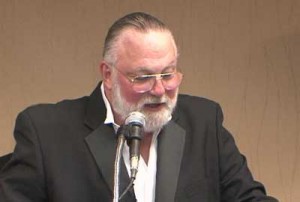 "Many groomers think it is normal to be bitten in the course of their daily duties, and Beth was no exception," Simons said. "Being bitten was just part of the job no matter how severe. I have met groomers who continued to work even after being bitten because they thought it was their fault it happened."
It wasn't long before a miniature Schnauzer bit right through Beth's fingernail and down to the bone. "Groomers are just not as fast as a dog," Simons said. "Just the slightest hesitation or a turn one way, and the dog can get you. I was torn between letting Beth continue doing something she truly loved and convincing her that it was just not worth the risk."
But as fate would have it. Simons made the discovery of a lifetime. Not only was there a way to protect a groomer from being bitten, but a way to protect the dog, too. A simple device called the Alpha Lock arrived at the salon. The product had been developed by Dr. R.K. Anderson, who is the inventor of the Gentle Leader. Simons put an Alpha Lock on his grooming table and the rest is history.
"I found that when the Alpha Lock was connected to a grooming loop, it acted like a kind of cross-tie that calmed the dog and reduced its bite radius by about ninety percent," Simons said. "This was a powerful moment in my life that changed everything for me. I had set out to discover a way to help my wife avoid being bitten and instead made a discovery that has helped me to change the way pet stylists around the world are grooming."
Simons worked with Dr. Anderson, improving on the design of the Alpha Lock and making changes that would eventually make his product the most widely used item in the grooming industry. One of the most amazing things about the Groomers Helper is that it can benefit any groomer who uses it, no matter what other products they may use, where they were trained, or what level of groomer they have become.
"I discovered that this simple device could cause a revolution in the industry," Simons said. "Pet stylists have found that the Groomers Helper solves nearly every problem they have when it comes to handling a dog on a grooming table. It has saved thousands of groomers from dog bites. I hear from pet stylists every day with incredible stories of how the Groomers Helper saved them in some way."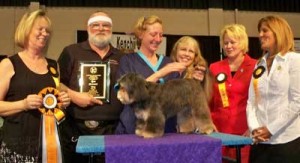 After Chuck found that Beth was grooming safer and smarter, he knew he had a winner on his hands. He began showing the Groomers Helper at trade shows across the country. Within the first few months of launching the product, Simons found that he had sold every single one of his first production run of 300 units.
Soon Simons found that it wasn't only individual groomers in the field who were using the Groomers Helper, but also grooming academies across the country and Canada, too. As more and more industry professionals and schools promoted the product, demand grew. Groomers Helper is also sold in Europe now, and there is a growing Australian market, too.
Simons also continued to attend as many as twenty trade shows and grooming events a year to keep building the brand. He recently began offering business building seminars and discussing the success of his own pet salon, which has continued to grow under Beth's management.
"At this point in my life, I have dedicated more than two decades as a professional groomer and more than ten years distributing the Groomers Helper," Simons said. "It has taken a tremendous effort to continue promoting the product, but now I am also using the knowledge I have gained from these ventures to help others who are in the business of pet styling. As a salon and grooming expert, I have become known in the industry as the SAGE.
But it was not just last year when Simons says the day finally arrived when he knew that Groomers Helper was truly a success. Through hard work and dedication, Simons had proven to the big box stores that they also needed the product to protect their groomers. When the orders started coming from the corporate shops to supply the Groomers Helper to their stylists, the product had finally become a part of the mainstream.
"The corporate stores make up about half, if not more, of the pet styling industry," Simons said. "Knowing that my product is now being used by thousands of their employees puts the Groomers Helper on the map and I am proud to have achieved this kind of status with my product. I have already received reports about the success of using the Groomers Helper in the retail chains."
Simons has not let the success of his product prevent him from expanding his horizons and role in the grooming industry. So much so, that he was honored this year with two of the grooming industry's top awards, earning both as a result of his contribution to the industry.
Simons was awarded a Barkleigh Honors medal and also received a Crystal Grooming Achievement Award in the David G. Salzberg category. By presenting seminars, working with the top professionals in the business, and accepting the role of Director of Public Relations for GroomTeam USA, Simons continues to toil for his peers. Both of the awards were the results of thousands of individual groomers across the country voting for Simons, and truly represent his status with professionals across the county.
"It has been such an exciting year that I sometimes find it hard to believe that Beth and I started out with a small salon where we groomed a few dogs to being one of the most recognized people in the pet grooming industry," Simons said. "I feel as though I have singlehandedly done what other companies only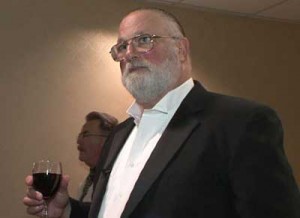 dream about and other products only hope to do."
Now Simons has set his sights on building a leading organization that is dedicated to helping pets. The grand project includes both the creation of a state-of-the-art training facility called the University of Pet Education, Technology and Science (UPETS). Based on the success of his other ventures, it seems like a sure thing that Simons will find the funding he needs to make this dream a reality.
He is hoping to find others in the industry and angel donors who will share his vision and support his dream.
Building the university will take time and effort, including creating the curriculum and finding the perfect location. Simons plans on offering courses for everything from equine to exotics, in an effort to give his students a future in the pet care industry. In addition to hands on training with animals, there will also be business courses and liberal arts classes.
"I find now that I am able to dedicate my life to the bigger picture and I would love to be able to promote the animal and human bond that we share on this planet," Simons said. "I believe that I can help people to find careers in the pet care industry, while helping pet owners protect and care for these family members, and saving the pets that have been sent to shelters around the world."