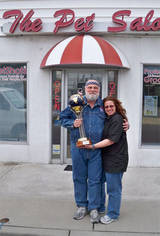 Chuck and Beth Simons in front of their Margate, N.J., pet groomers salon with the traveling Groom Team USA trophy.
Photo courtesy of Chuck Simons
Anybody who's anybody in the pet groomer industry has heard of and most likely uses the 
Groomer's Helper®
, a pet safety and positioning system that many experts claim has revolutionized the pet groomers profession.The Groomers Helper® is a simple, metal clamp with a nylon tether that attaches to a grooming arm at the end of the table. A safety loop is put around the dog's neck and hooked to the tether on the Groomers Helper®. (Click on 'More Images' to the right to see.)This creates a "tri-tie" for the dog, using the dog's natural instincts to calm it and help it to stay in position. The loop is pulled away from the trachea, making it safer for dogs, while it prevents them from backing off the table or hanging themselves.Best of all, it reduces the dog's bite radius by up to 90 percent, making it nearly impossible for the groomer to be bitten during the grooming process. This gives the pet groomers confidence that the dog can actually smell on their breath. It also gives pet groomers a "second pair of hands."
Used by Pet Groomers Around the World
Since going on the market 10 years ago, the device is used by groomers the world over, including at the Pet Spa at Harrods, the posh London department store which launched a chi-chi pet salon in November 2010.
I recently caught up with the inventor of the Groomers Helper®, Chuck Simons, who owns The Pet Salon grooming parlor in the seaside resort town of Margate, N.J., along with his wife, Beth, a leading area pet groomer.
Simons, a mountainous bear of a man with salt and pepper hair braided in a ponytail that spans the length of his back, previously had been in the casino supply business. (Margate is just a few miles from Atlantic City.) He and his wife opened the salon and he came up with the idea for this device in roundabout ways.
'Groom Smarter, Not Harder'
Simons's wife embarked on a pet groomer career many years ago, following the death of the couples' beloved black Lab, Russell.
"Beth was inconsolable," said Simons. "So she got a job at a vet bathing pets, to keep her occupied. She loved it, and decided that this is what she wanted to do."
Thus, 23 years ago, the couple decided to open the Pet Salon in a small storefront in the upscale Jersey shore town. Simons came up with the idea for his grooming system about 10 years ago, after repeatedly witnessing the struggles his wife and the grooming staff endured while handling pets.
"Groomers are the champions of the industry," Simons said. "They are over-worked, under paid and under-appreciated. They often get bitten and scratched. So I do everything I can to promote and support them."
A Mom and Pop Pet Business
What's interesting about the Groomers Helper® is that it's not some mega corporation; it's a mom and pop operation, with all business conducted out of the salon. This is a relatively small, yet well-utilized space. There's a pet photo studio situated in the front of the store; a retail area with a small but comprehensive assortment of holistic pet products and supplies; a room in the back that contains the grooming salon; a work area where employees sew the loops and prepare the devices for shipping; and an office cubicle where Simons conducts business.
In addition to his numerous business operations, Simons also participates in groom shows around the world, and is a sought-after lecturer, pet photographer (he takes 'Pet Shots' glamour photos), and writes a column called "SAGE (an acronym for Salon and Grooming Expert) Advice" for Groomer to Groomer, a respected pet grooming industry trade magazine. Plus, he has been nominated for a Cardinal Crystal Award, a respected maker of pet grooming products based in California. This prestigious award is presented to an outstanding groomer each year in conjunction with the Westminster Kennel Club Dog Show in New York.
An 'Attitude of Gratitude' Toward Pets
Simons takes a very holistic approach to animal care and life in general with "an attitude of gratitude" – his personal motto – largely because he is a cancer survivor. He was diagnosed with malignant lung cancer in 1994. But he miraculously survived what is usually a death sentence, after which he decided to make a firm commitment to living each day to the fullest, and giving back to the world.
Simons is, indeed, a maverick who believes he owes his success to his belief in the importance of telling the truth, maintaining a positive attitude and his love of animals, as well as his respect for those who provide services for them.
"I am all about what I can do to leave a mark on the world," he summed it up. "Pets heal us; they give us unconditional love. I do whatever I can to help them."