By Dana Rimington
Wed, 03/21/2012 – 6:44pm
LAYTON — When it comes to grooming dogs, licenses or certifications are not required, so the industry standards can vary dramatically.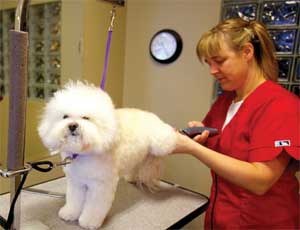 One local pet groomer recently decided to complete the grueling national certifications, in hopes it would make her a better groomer.
The owner of K9 Designs by Tammy in Layton, Tammy Ellis, 41, spent months preparing for the three extensive written tests and four grooming demonstrations, where she was judged by top-level groomers.
She is now one of only a handful of groomers in the state recognized as a National Certified Master Groomer from the National Dog Groomers Association of America, the largest certification organization in the nation.
When asked why no licenses are required, Ellis said, "It's because it's more complicated than you can imagine. You aren't just doing the top of their head. You are doing their whole body and you can accidently burn, cut or poke them since they're constantly moving. It is completely different than grooming a person."
Ellis chose to voluntary get the license to help learn how to avoid any injuries to the dogs she grooms. For those envisioning a pet groomer playing with puppies all day though, Ellis is quick to nip those thoughts in the bud.
"I wish it were like that, since it is more like occasionally dodging teeth," said Ellis.
For her, grooming has become more than just a way to make a living; it has become a creative outlet for her since every dog cut is different.
"As I learned more about grooming, I realized there is so much more to it than meets the eye," said Ellis, who specializes in small dogs less than 30 pounds.
"There are little tricks you can do to make the dogs look more balanced, almost like an optical illusion creating an ideal dog," she said, referring to special cuts that can be made in certain areas to make the dog appear more symmetrical.
One of the problems for groomers is pet owners wait too long between grooming sessions.
The average duration between grooming is about four weeks for most of her clients, though some do bring in their dogs more frequently. Groomers see a big difference between dogs that come in regularly for cuts and those that only come in once a year.
"It's stressful for dogs to be taken from the comfort of their backyard, and get a blow dry and haircut," said Ellis. "Dogs like that can have a really hard time being groomed."
Ellis travels to dog grooming competitions across the nation several times a year, which helps improve her skill. She was surprised to win first place in her first competition 2 1/2 years ago in Las Vegas.
She said she has been bitten by the competition bug, but does it for her clients.
"The competitions have helped my grooming skills, and I want my dogs to look the best. So my clients benefit in the long run," Ellis said.
Her ultimate goal is to be a member of Groom Team USA, which consists of the top 10 groomers in the country depending on their accumulated points in the national competitions throughout the year. Two years ago she was in 34th place, and has since moved up to 15th place this year.
In addition to grooming, Ellis is trained in pet CPR. Dogs can have undiagnosed conditions that may present themselves while in her care, so she wants to be prepared if one of the dogs has a seizure or stroke.
"Safety is my top priority," said Ellis, who also takes the time to hand blow-dry the dogs, rather than using kennel dryers that can often be harmful.